Project Name:

Forthcoming (Finalist! Merit Award)
Entry ID:

152
Architectural Firm or Team Name

MAD Architecture
Additional Architect Firms and or Team Members
Joseph Lynch
Eliana Heath
Mary Dooley
Chris Lynch
Kristin Nichols
Chris Heath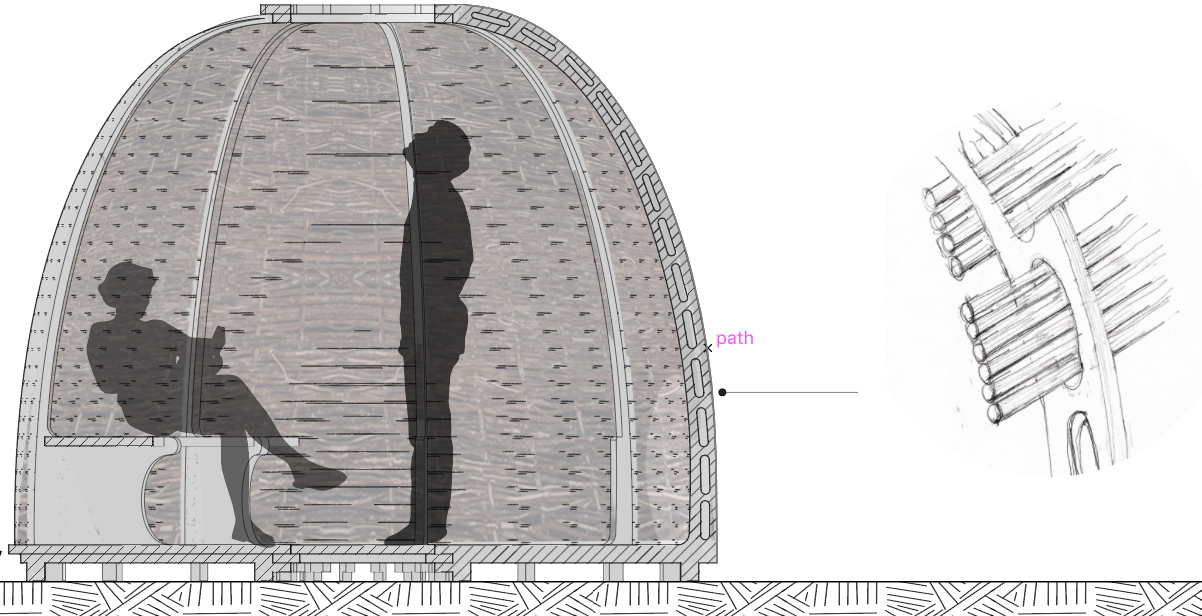 "Forthcoming" is a partially enclosed human respite from urban surroundings.  It emanates from a nine-section radial plan with plywood ribs and a twig weave.  Forthcoming, by definition, is uninhibited, expressive and made available when wanted or needed.   Evoking a primitive shelter, a giant basket or a nest, the organic nature of the willow waddle is bound by multi-ply ribs that are CNC cut to shape. The ribs are the support for the plywood bench and fit into slots in the plywood platform. Only two materials are employed in this structure – Plywood and Willow.   While we sought to find a balance of nature and technology for delight and buildability, the solution is about contrasts. Our hope is that the importance of more balance with nature is forthcoming.   Radial Form/ Urban Grid Sticks/ Pre-Cut Sheets Handwoven/ Machine Cut Enclosure/ Oculus Sun Filter/ Lamp Shade   An odd number of structural ribs was required to end the weave equally and it was established that nine ribs allowed a good span between supports for the bench.  The wedges are spaced at a neat 40 degrees and the opening meets the needs of an accessible entry at 42" wide. 9 is symbolic in numerology for one seeking wisdom and in this refuge from downtown, a little time spent in Forthcoming could be the answer.   The positioning of Forthcoming is flexible depending on time of year and hemisphere.  For the Court House Square Sit the plan is to locate the opening just east of north. Rib number one is due north. The willow will dapple sunlight into the space. protect people from harsh western sun this summer and at night sun powered lights will burn for 8 hours creating a glow from the inside that act like a giant lamp shade.   Construction Method: The plywood will be CNC cut for precision and use slotting and pegging in a plywood base and top ring. This method will provide prefabrication, portability and speed of assembly. We are designing the cuts for the standard 4x8 panels with minimal waste. 9 panels will each provide one rib, one wedge of platform and its intermediate support. The 10th panel will be the top and bottom ring and the bench itself.
Project Name:

Trade Waste | Shade Space (Finalist! Merit Award)
Entry ID:

154
Architectural Firm or Team Name

ChandlerWorkshop Architects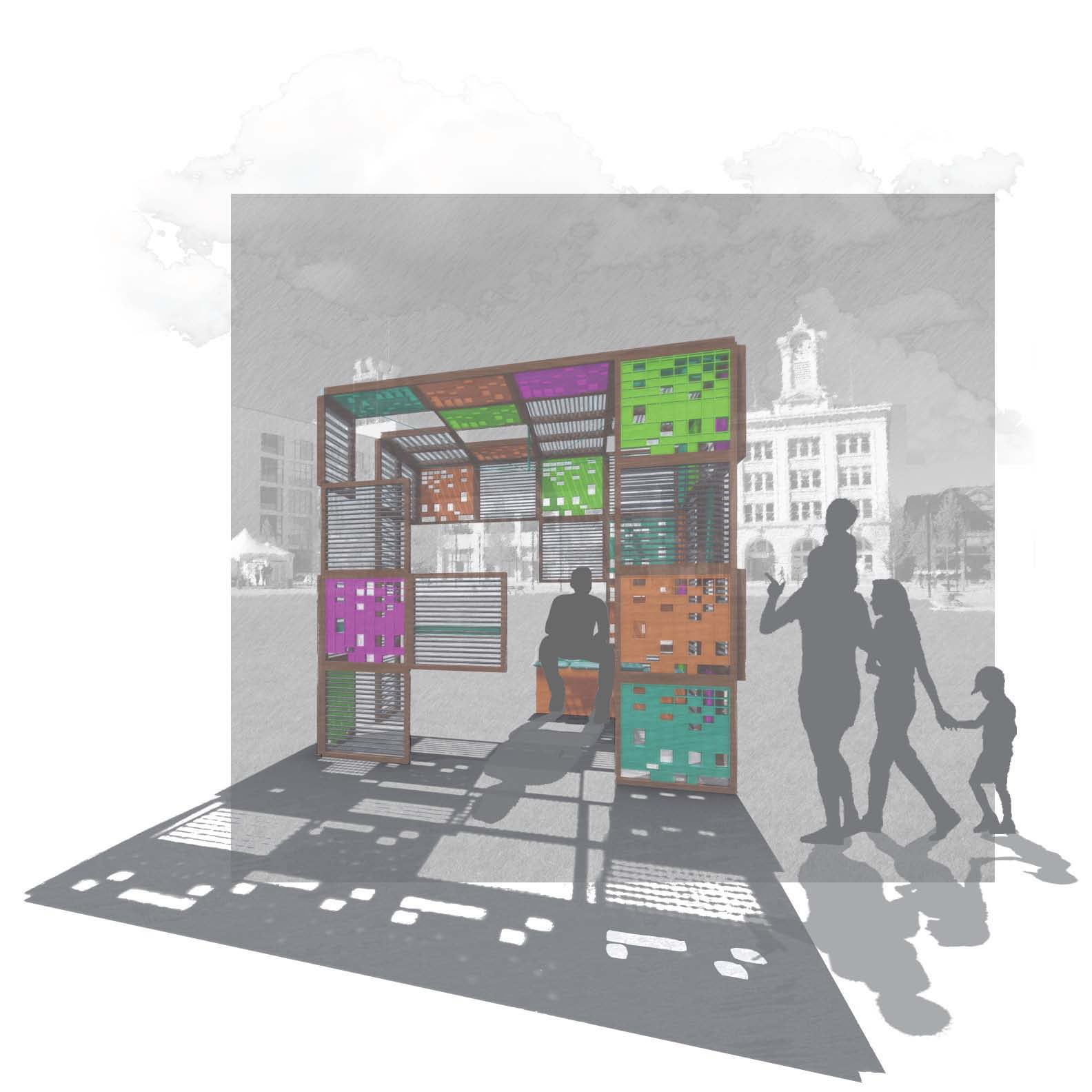 Landfills are not what come to mind as the most glamorous of places. On the contrary the wine country of Sonoma and Napa counties paint a different picture. The upcycling and enjoyment of the embodied energy of a vineyard should not be limited to a glass of wine or the common re-used/re-purposed wine barrels. This shade structure is meant to re-purpose landfill destined materials in a completely different way. Playing with shadows and light, the deconstructed modular cube creates a grid of frames made of recycled vineyard posts – a pressure treated wood unsuitable for composting. Each square is in-filled with either retired irrigation tubing, or perforated portions of ½ ton micro-bins used for grape collection. Huge amounts of irrigation tubes are often replaced when replanting vines. Cracked bins are at best reused for storing dirt (and every recycling center in the area has indicated they do not take them). The cube is composed of panels four modules high by four modules wide. Select hinged panels and a sliding door provide shade flexibility and interaction amongst the users. Additional comfort is added by replacing certain tubes in the ceiling with misters, which are fed by a recycled tank hidden underneath the multi-person bench. Each square is constructed off-site, transported and then assembled into the final cube. Basic Simpson A34 and A35 brackets tie each prefabricated panel together, which allows a multitude of different arrangements and patterns. Lateral support comes from recycled vineyard trellis wire (used to support vine rows) and turnbuckles which run diagonally along each facade. The roof structure is supported by similar wire, creating a tensile truss that pushes up on the roof via a central compression strut. This shade structure is intended to bring attention to the role of waste in the climate crisis, and bring hope by creative design solutions. To spark innovative solutions to market these materials efficiently, and give them a new beginning. To re-imagine, re-purpose and re-vive the industry trade waste.
Project Name:

Social Seesaw (Finalist! Honor Award)
Entry ID:

159
Architectural Firm or Team Name

Urban Playfare
Additional Architect Firms and or Team Members
Lisa Sparks, Haley Maddigan, Alexa Riner, Heather Evans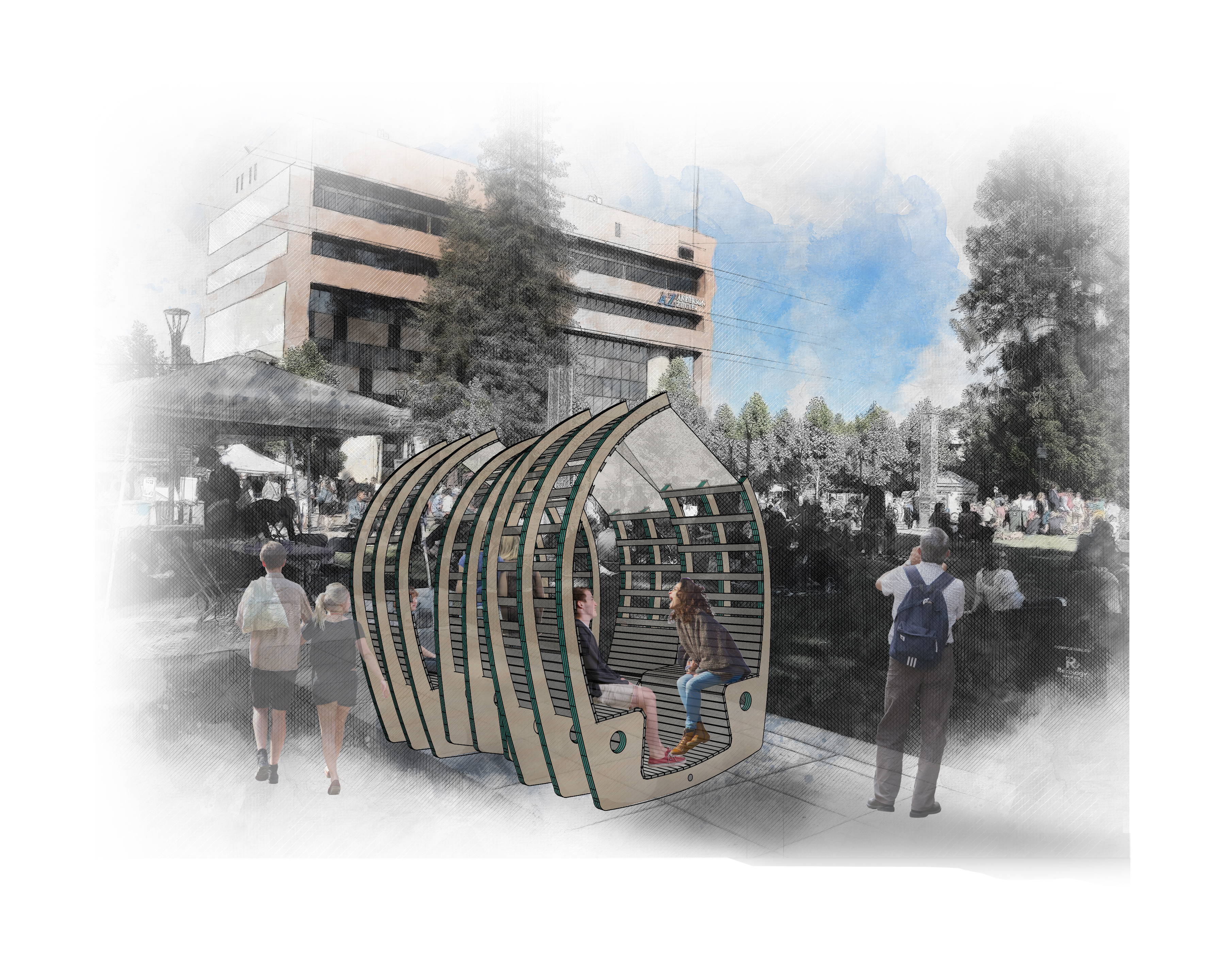 View My Presentation Board!
DESIGN NARRATIVE The Social Seesaw creates a shaded seating area that is also a playful catalyst for community interaction. Up to twelve visitors can occupy the structure and, when seated directly across from each other, they can gently rock the form in three independent units. The resulting movement of the piece and its shadows draws the attention of those passing by. Not only does this installation provide a shaded place to socialize, but it also adds dynamic visual interest to the Square. The design evolved from the abstraction of the familiar seesaw, which requires two users and can therefore encourage group activity. The vertical ribs generate the form, and the horizontal slats enclose the space, spreading further apart in key locations. This simultaneously allows visual contact with the features and occupants of the Square while still providing partial shade. While studying the seating and degree of movement, it became clear that designing to a human scale would be essential for the concept to work. We wanted to create an intimate space for friends to gather and talk, but also large enough for strangers to interact comfortably for the first time. Overall the Social Seesaw is an engaging object that rejuvenates a large, relatively featureless urban landscape. CONSTRUCTION & INSTALLATION The three vertical ribs will be cut from 4' x 8' sheets of plywood using a laser cutter, then bolted together in layers to increase the strength of the larger profile. The seating surface will be constructed of 1 x 3 wood slats extending along the ribs, tying the unit together in a rigid assembly. As the bottom of the structure will rock against concrete, there will be a rubber or metal cap underneath each rib at the rocking surface for moisture protection and durability. The fabric skylight unites the ends of the ribs together which not only completes the shape, but also adds material variation, and offers further shading. A 2" diameter metal pipe running through the three units creates a single structure and acts as the pivot point for the rocking movement. The pipe also prevents torquing or user-instigated relocation or toppling. Pipe clamps and spacers at each end and between units will prevent horizontal shifting, while still permitting rocking of the independent units. Prior to installation day, the structural profiles will be produced, and the slats will be cut. On August 17th, the pieces will be transported to the site and assembled. Given that the final dimensions of a single unit are approximately 7'-6" x 10' x 3', it is also possible to fully assemble each unit, transport them to the site and connect them with the metal pipe.